PROFILE
HYMY Industries is a multidisciplinary collective working both individually and collaboratively on projects in art, design, music, fashion and architecture. In every area, we are regularly involved in concept and execution, making us not only designers, but also builders, fabricators and printmakers.
We live and work in Philadelphia, PA.
UPCOMING EVENTS
· 6 OCTOBER 2017 : CAPE WRATH, GEOLOGY, GRAHAM STONE, & SAW BLACK : BARBARY : PHILADELPHIA, PA
· 28 OCTOBER 2017 : SOPORUS & HONEYBRANDY : FORM FERMENTERY : PHILADELPHIA, PA
SELECTED PREVIOUS EVENTS
· 16 DECEMBER 2016 : CRIME & PUNISHMAS : CRIME & PUNISHMENT BREWING CO, PHILADELPHIA, PA
· 2-3 DECEMBER 2016 : ART SHOP, PHILADELPHIA, PA
· 1 JULY 2011 : FIRST FRIDAY/HYMY TRUNK SHOW : FRANKLIN SQUARE, PHILADELPHIA, PA
· JUNE 2010 :
GRID EXPLORATIONS - Individual & Collaborative Works by Jenna Avellino & Will Stichter
: F&N GALLERY, PHILADELPHIA, PA
· 2007 : PRINT RETROSPECTIVE w/ Matthew Neff, Christopher Van Auken, & Pernot Hudson : INFANTREE GALLERY, LANCASTER, PA
Art Shop is a yearly art and craft fair with a wide variety of artists and crafters from the Philadelphia area. We regularly have a table with some clothing, posters and other treats. The image on the left is what our little booth looked like in 2009. The image on the right is from the
Grid Explorations
show at F&N Gallery in June 2010.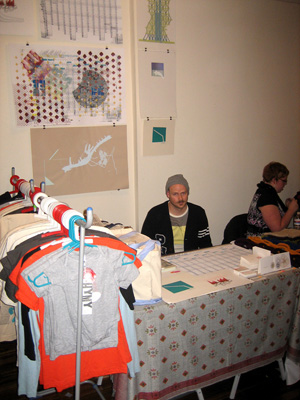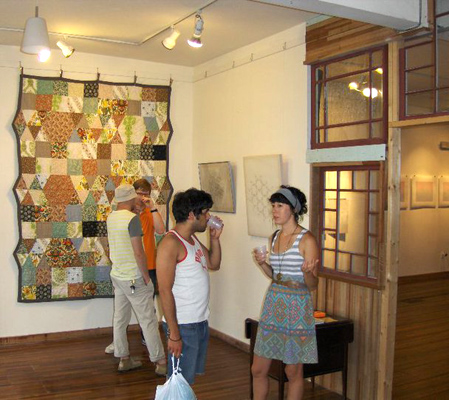 LINKS
Boutique Textiles
- Screenprinter
Burnt Toast Vinyl
- Record Label
Carina Romano
- Photographer
Franklin Square
- Boutique
Cape Wrath
- Band
Saxon Shore
- Band
Soporus
- Band
Starflyer59
- Band